Eyeworks USA Promotes Brant Pinvidic to President (Exclusive)
Do Saints stay undefeated? Post to Facebook USA TODAY Sports' Week 6 NFL predictions on USATODAY.com: http://usat.ly/1g2FdX0 Incorrect please try again A link has been posted to your Facebook feed. Sent! A link has been sent to your friend's email address. 1 To find out more about Facebook commenting please read the Conversation Guidelines and FAQs USA TODAY Sports' Week 6 NFL predictions Staff report, USA TODAY Sports 10:42 a.m. EDT October 13, 2013 DeMarcus Ware (94) and the Cowboys hope to plant RG3's Redskins on Sunday night. (Photo: Ronald Martinez, Getty Images) SHARE 10 CONNECT 5 TWEET 1 COMMENTEMAILMORE If the Dallas Cowboys had merely split with the Washington Redskins last season, America's Team would have reached the playoffs. But Robert Griffin III and Co. swept their way to the NFC East crown by beating the Cowboys for the second time in Week 17. The division looks wide open again with Cowboys, 'Skins and Eagles all saddled with three losses but still within a half-game of each other. The Redskins didn't get their first W until Week 4 then went on bye. But winning in Dallas on Sunday night just might give them sole possession of first place by Monday morning.
Crowd breaks into emotional YES WE CAN chant. Players stop at tunnel to applaud fans. Stunning roger bennett (@rogbennett) October 16, 2013 Things weren't looking up for Panama in the middle of the second half, as Mexico equalized with Costa Rica and the United States found one of their own in the form of Orozco. It's a long match, though, and Tejada worked his magic in the 84th minute to put Panama on the brink. As noted by ESPN's Jeremy Horton, the goal had a chance to be historic for Panama: Wow…Luis Tejada with a historic (?) goal for Panama. You remember him…he had coffee with RSL a while back. Jeremy Horton (@espn700jeremy) October 16, 2013 At about the same time, Costa Rica took a decisive 2-1 lead over Mexico that it would not relinquish. If Panama could hang on, it would get the honor to face New Zealand in a two-leg playoff with a spot in Brazil on the line. Zusi and Johannsson killed that dream past 90 minutes. Brad Davis found Zusithe hero Friday night for the U.S. against Jamaicafor an equalizer in the second minute of added time, and Johannsson followed suit with a strike off an assist from substitute Terrance Boyd. And thus, rumors of the U.S. trying to oust Mexico by throwing the game away were greatly exaggerated. As noted by Football Shirts on Twitter, El Tri owes the U.S. a debt of gratitude: Dear USA, thanks for keeping our World Cup dream alive – Mexico pic.twitter.com/ohPPNiOctd Football Shirts (@FootballShirts) October 16, 2013 Fox Soccer Trax thinks the late-scoring pair are already national heroes in Mexico: Zusi and Johannsson, meanwhile, become national heroes in Mexico. What a strange, strange ending to this hexagonal.
USA vs. Panama: Score, Grades and Post-Match Reaction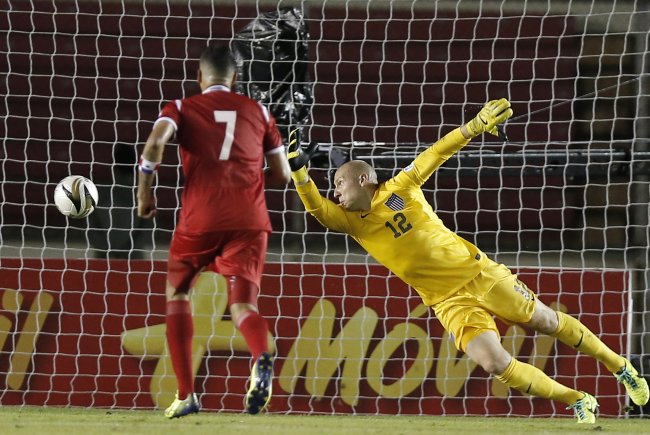 ( GCI ) today announced Dave Morgan has been named president of USA TODAY Sports Media Group. Morgan succeeds Tom Beusse, who had been president of USA TODAY Sports Media Group since its formation in 2011. Beusse is leaving to pursue other opportunities. Morgan has served as senior vice president of content and editor-in-chief of USA TODAY Sports Media Group since 2011. USA TODAY Sports Media Group, a top five online sports destination, includes sports initiatives across USA TODAY as well as Gannett's more than 100 U.S. Community Publishing and broadcast television properties. It also includes: USA TODAY Sports Images USA TODAY High School Sports For The Win Sports on Earth USA TODAY Sports Digital properties, which consist of hundreds of digital sports assets including The Big Lead family of sports sites, MMAjunkie.com and the action sports destination BNQT. "We look forward to Dave continuing the work Tom started by building USA TODAY Sports Media Group into the top source of sports news and information in the country," said Larry Kramer, president and publisher of USA TODAY. "Dave's newsroom experience and business background make him the right fit to lead our sports team as we transition from entrepreneurial startup into the next phase of development. "Tom's energy and enthusiasm were key to the initial stages of building USA TODAY Sports Media Group into a top five digital sports destination. We wish Tom all the best in his future endeavors," said Kramer.
Dave Morgan named President of USA TODAY Sports Media Group
Eyeworks USA co-CEOs J.D. Roth and Todd A. Nelson made the announcement Tuesday. The production company has also named a new board of directors, which includes Roth, Nelson, Pinvidic and COO Ross Weintraub. Pinvidic's promotion comes on the heels of multiple successes for the production company, which produces unscripted and nonfiction programming for broadcast and cable networks. Positioning Pinvidic as president is intended to give Roth, Nelson and Weintraub the ability to focus on business strategy, both globally and domestically. Now, with hundreds of employees, and hundreds of hours of programming in development and production each year, we need a superstar with great sales and producing experience, infectious enthusiasm and a genuine love for our business who can work with us to lead Eyeworks USA," said Roth. "We know Brant is that guy, and were thrilled to continue to collaborate with him, creating content that moves people and can change their lives in a real way. Added Pinvidic: JD and Todd built a company focused on growth, creativity, and what is the key to the kingdom for Eyeworks USA: transformation — and theyve never been afraid to take risks or to be noisy. Being part of the fabric of the global Eyeworks organization, we are better positioned for growth than ever before. "I have been working closely with Brant Pinvidic since he joined the Eyeworks team five years ago. Brant is an outstanding creative and the right man to spearhead the exchange of his unique brand of creativity with our international sensibilities," said Reinout Oerlemans, CEO and founder of Eyeworks Group. During his time at Eyeworks USA, Pinvidic has developed dozens of shows, including ABC's Extreme Weight Loss, Spike TV's Bar Rescue and Oxygen's My Big Fat Revenge. Prior to joining the company, he was senior vp programming and development at TLC, where he helped launch several series, including Jon & Kate Plus 8. Eyeworks USA also produces Animal Planet's My Cat From Hell, Discovery's Flying Wild Alaska and ABC's Splash, among others.